【Main Function of Spring Clips】 
①Control the movement of machinery, such as valve spring plate in internal combustion engine, control spring plate in clutch, etc.
②Absorb vibration and impact energy, such as buffer shrapnel under the car and train carriage, vibration absorbing shrapnel in the coupling, etc
③ Store and output energy as power, such as clock clip, clips in firearms, etc
④It is used as a force measuring element, such as the force measuring device, the shrapnel in the shrapnel scale, etc. The ratio of load to deformation of shrapnel is called the rigidity of shrapnel. The greater the rigidity is, the harder the shrapnel is.
According to the mechanical properties, shrapnel can be divided into stretch shrapnel, compression shrapnel, torsion shrapnel and bending shrapnel. According to the shape, shrapnel can be divided into disc shrapnel, annular shrapnel, plate shrapnel, spiral shrapnel, truncated cone scroll shrapnel and torsion bar shrapnel.
Material
Stainless Steel:
#Stainless steel 200 series, 300 series, 400 series
Steel/CRS/Spring Steel:
#SPCC,SGCC,SPTE,Q235,65mn,SK5
Alumium:
#AL1050/5052/6061
Brass/Copper/Becu/phosphor bronze/Nickel silver
#C1100,C1720,C2600,C2680,C5191,C7521
Finishing
Electroplating: Tin/Nickel/Silver/Gold
Package
Polybag, Tray/blister box,Paper, Tape&Reel, Foam
 Artwork
 Design files in STEP,DXF,PDF format.  Put Your Good Ideal into Reality.
Samples
Prototypes can be made within 10 days.Bulk Time Around 8-15Working Days.
MOQ
It would be great the volume can consume 50KG raw materials.
Payment Term
T/T,Paypal, Cash, others can be negotiated.
Shipping
By Air/Express or Sea
MORE CUSTOM MADE CLIPS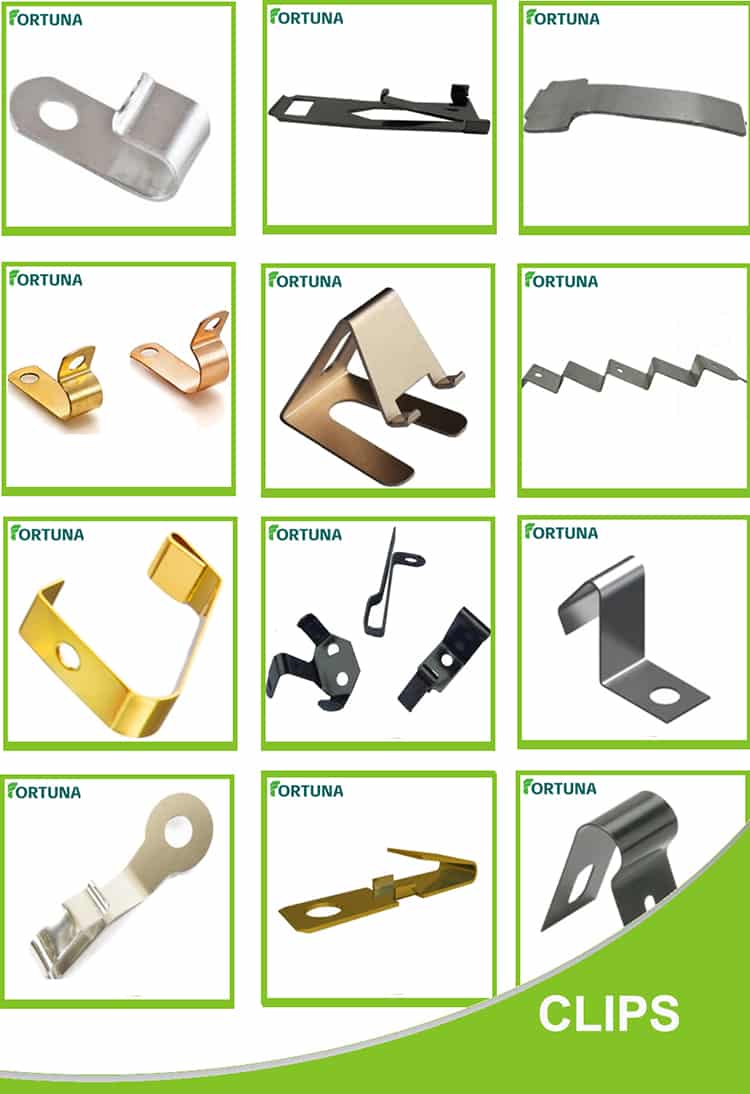 Error: Contact form not found.